Helpful Starting Points
If this is your first visit to the Cattaraugus County GenWeb site, let me suggest a few of the KEY links. To get a feel for the county and its history, visit Towns and County page . From there you will find links to each individual town, and much information to help you.;
The next thing that you may want to do is contact others who are researching the same surnames or may have knowledge of the information you are seeking.
We have a lot of on-line information, the FREEFIND search is a way to search this entire site for any occurance of a family surname. A word of caution here. Often times, names are sometimes misspelled in the data. If your search doesn't turn up anything, you may want to try some other spelling variations. Even if you fail to find your ancestor with the FREEFIND search, and you are reasonably sure your ancestor has a connection to this county, you should browse the on-line data bases.
On Line Data Base. We have many, such as Cemeteries , Biographies from Historical Books, and some Census records. If your ancestor was in the military, such as the Civil War or the World Wars, we have some great data bases of Cattaraugus folks in the Military. We also have several links to other military web sites. We also links to Homepages with Cattaraugus County connections. If you have a link you would like to see added, please let me know
When you've exhausted your online research, you will want to check out Historians, Museum and Libraries, to get the address of where to write for further information. Don't forget to send a SASE when you write. Here are some off site helpful links.
An important note
Not all links are maintained by NYCATTAR. Some links are to links external web sites. Links to external web sites are being provided as a convenience and for informational purposes only; they do not constitute an endorsement or approval ofany of the products, services or opinions contained in any external web site.
Relationship Chart: Do you get confused when someone says they are your 3rd Cousin twice removed? The State Library of North Carolina developed an excellent explanation and CHART to help make sense of it. Easy to read, and easy to use. They graciously provided it for posting here.
How to Share With Fellow Genealogists

Cattaraugus County Message Board
The broadest and most enduring method to communicate with others is via the NYCATTAR message boards. Here you can post a message that over time will be seen by thousands of people for several years to come. Often you will get replies to message board posts that you made years before.These Boards are for Cattaraugus County Queries Only Please do Not Use the Cattaraugus County Boards unless you KNOW that your ancestor lived in Cattaraugus County .
Cattaraugus County Museum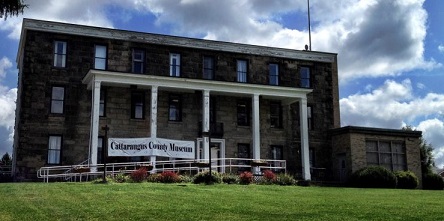 The Cattaraugus County Museum is in the Stone House on the campus of the Pines Healthcare & Rehabilitation Center (9822 Rt 16, Machias, NY). Hours for the County Museum and Research Library will be 9 a.m. to 1 p.m. Tuesday through Friday. There is no admission charge but donations are welcome. The oldest surviving county owned building, it was saved from demolition in 1979 by the county legislature. It is handicap accessible and house a research center as well as many displays.

Cattaraugus County Memorial

Citizens Advocating Memorial Preservation (CAMP) was formed for the purpose of preserving the Cattaraugus County Memorial and Historical Building in Little Valley, New York, and urging its restoration and reuse. The Memorial and Historical Building has tremendous historical significance as Cattaraugus County's most prominent and significant Civil War memorial. Despite the protests and the advice of the LSWNY, in October 2014 the County Legislature voted to proceed with asbestos removal in the Memorial as a prelude to demolition. As a result, in November 2014, CAMP was organized. Click on the image to find out more.