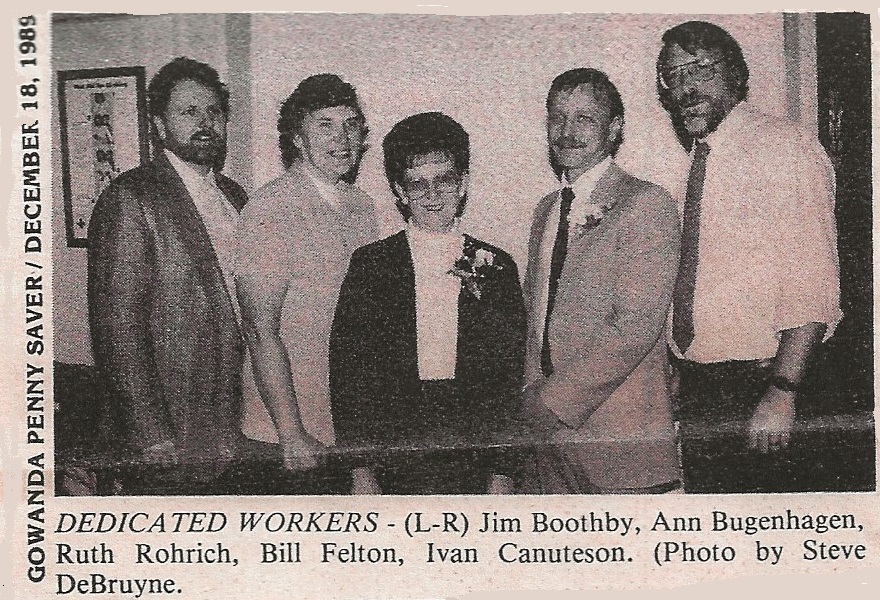 J.N. Adam Honors' Employees
Each year, the New York State Office of Mental Retardation and Developmental Disabilities honors two employees at each regional Developmental Disabilities Service Office (DDSO) ,who have exemplified excellence and dedication in their work. For 1988, J .N. Adam DDSO has selected Ruth Rohrich of Perrysburg for the Developmental Center and William Felton of Perrysburg for Community Services as Employees of the Year.
Ms. Rohrich, a Food Service Worker lll, completed 38 years of service at J.N. Adam in April. Among her accomplishments is the organization of the Continental Breakfast Program which allows Development Center residents 10 "sleep in" in ,weekends and holidays. Ruth has taken many food production and supervisory courses during her tenure which has led from an entry level position to her current responsibilities. Part of her regular duties involves adjusting batch sizes for recipes, and she also acts as the "problem solver'' for the Nutrition Services Department.
A Town of Perrysburg election inspector, Ms.. Rohrich is the mother of three children and eight grandchildren. Her oldest son, Dick Gabel, is married and has three boys. Another son, Charles Rohrich, is a corrections officer at Collins Correctional Facility. Her daughter, Cindy Miller is married and has two girls and a boy. One of Ruth's major interests is reading, but her most important pastime 1s enjoying her grandchildren.
Registered Physician's Assistant " Bill Felton has served New York State in a variety of positions. Beginning as a therapy aide at J .N. Adam in 1969, he left when drafted for military service. He re.: turned in 1977 after receiving his physicians assistant degree from Hudson Valley Community College and Albany Medical Center.
During his career as an RP A, he spent several years in the Education & Training Department where he expanded a continuing medical education program and set up a health assessment course for nursing personnel which he was able to obtain accreditation through the New York State Nursing Association~ In 1988, he worked with primary and specialty physicians both in the community and in health maintenance organizations to secure medical care agreements for developmentally disabled individuals, living in the community. In addition, he follows-up community care as a problem-solver and as a monitor for regulatory aspects. Bill acts as an advisor to interdisciplinary treatment teams on medical care issues and as a resource for technical assistance and regulatory issues for community mental health nurses. He has supported the Infection Control Program as well as assisting in the Fragile X Screening Program.
Bill is currently completing a Bachelor of Arts Degree in Health Care Administration through Empire State College. Next June, he will begin a P.A. Masters in Public Administration program through Canisius College of Buffalo. He is a member of the N. Y .S. Chapter of Physicians Assistants and the American Association of Physicians Assistants. At J.N. Adam, he serves on the Medication Practices Review, Special Incidents Review , Elective St1rgery and Mortality Committees, and the Challenge Advisory Group.
J .N. Adam has always been a major part of Bill's family. His mother, Ilene (Pat) Towne of Dunkirk retired after serving at the Multiple Disability Unit and his father, Murmel (Bill) Felton of South Dayton retired as transportation supervisor. Bill's sister, Linda Luce is currently community residence Director at Lakeview lCF. As far as outside interests are concerned, Bill says "Between my work at J.N. Adam and my education, there's no time left.''
A reception was held at J .N. Adam on Friday (Dec. 8, 1989) for staff and families to honor the Employees of the Year. Ivan Canuteson, director, and their supervisors, Ann Bugenganen, food administrator and Dr. Arnold Victor, deputy director-medical service.s presented them with gifts.
Ruth and Bill will be flown to Albany with . their guests for two days in December where they will tour the Empire State Plaza. They will also attend a banquet in honor of all of the Office of Mental Retardation and Developmental Disabilities Employees of the Year.
A staff committee reviewed nominations submitted by J.N. Adam employees and voted for their selections. Also nominated for Employees of the Year were: Joanne Keith of Hamburg, habilitation specialist II, Multiple Disability Unit; Greg Peters of Little Valley, community residence aide, Salamanca SOCR; Debbie Wa1ker of Gowanda, keyboard specialist, Community Services; John Parsons of Ellicottville, community residence aide, Ellicottville ICF; and Linda K. Miller of Forestville, home care coordinator, community services.