Elizabeth "Betty" Pappas
---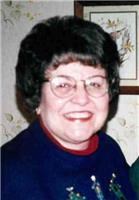 OLEAN - Elizabeth Pappas, 89, of 961 Kingston Drive, passed away on Wednesday (April 15, 2020) at Olean General Hospital, following complications from a stroke.

Miss Pappas was born on Nov. 19, 1930, in Olean, and was the daughter of James and Mary Kainurgiu Pappas.

She was a graduate of Olean High School; attended the University of Buffalo on scholarship and graduated with a bachelor of arts degree, cum laude, from St. Bonaventure University.

In 1958, she received a master of arts degree after writing a thesis on "Alcoholism," which was recommended for publication. Miss Pappas earned certification in elementary teaching; secondary English; secondary history and social sciences; guidance; and both principal and superintendent administration.

Miss Pappas began her career in 1953, as a secondary history and French teacher, at Hinsdale Central School. In 1963, she was appointed as guidance director for grades kindergarten through grade twelve. In 1976, she was made vice-principal and elementary supervisor. She remained at the Hinsdale School until January 1984.

While at the Hinsdale School, Miss Pappas served in a great many capacities, including senior class advisor; Hinsdale Teachers Association president; graduation chairman; supervisor of student teachers; CSE chairperson and Gifted Students Committee chairman.

She was responsible for initiating a Hinsdale School Scholarship Fund, from which hundreds of students have been enabled to attend college, and still continue to do so. She also originated the Junior Scholarship Society to recognize academic achievement for students in grades 7, 8 and 9. In 1980, she was named "Miss Versatility," in recognition of her ability to work effectively in so many varied fields and activities.

Miss Pappas' educational experience encompassed many areas. She served as a French instructor at Archbishop Walsh High School and -art-time instructor at Olean Business Institute.

She was the director of Guidance at the Richburg Central School from 1985 to 1988, when she became a counselor at Olean High School. In 1991, she was appointed guidance director for the Olean City School District. She retired in 1998, but continued to be active in many educational organizations and activities.

In addition, Miss Pappas served as an adjunct instructor at the St. Bonaventure Graduate School, having taught a variety of graduate guidance courses. She also tutored foreign-born students in the summer.

Miss Pappas was a dedicated, creative educator who cared deeply about her students. Throughout her life, she continued to receive notes and visits from many of her former students. She had high standards, and, in striving to achieve them, her students always excelled.

One of her graduating classes wrote and dedicated a song, "Oh, Our Pappas," in her honor. Another former student, a rector, dedicated his first sermon to her.

Betty's philosophy was, that if one kept a class interesting and injected a bit of humor, there would rarely be a discipline problem and students would enjoy learning. A former student once wrote to her: "I hated history, but I couldn't wait to get to your class."

Betty Pappas was the recipient of a number of honors. She received the Valley Forge National Award for Outstanding Teachers for her work as a classroom teacher. She was also a national winner for successful teaching history techniques.

She was one of 30 scholarship recipients to a Cornell University Finance Seminar. The Cattaraugus County Counselors Association nominated her for the George Hutcheson Honorary Award, for exceptional service in the field of guidance, in New York state. She is also listed in "Outstanding Women Teachers," and received the Youth Bureau Award for "Personal Commitment and Dedicated Service to the Youth of the City of Olean," in 1991.

Miss Pappas was a leader in a number of civic and educational activities. She served as president of the Cattaraugus County Counselors Association for several years. She was one of the original planners for the Cattaraugus County Honor Society Banquet, which still continues after more than 30 years.

She was also on the original committee for establishing the highly successful College Night Program, at St. Bonaventure University, and has continued to serve on the committee every year to date. In addition, she was instrumental in organizing the "Big 30 Academic Dinner," recognizing outstanding students in New York and Pennsylvania.

Miss Pappas was one of the founders of the Olean Area Teachers and Postal Service Credit Union and served on its board for several years. She was a member of the Alpha sigma Chapter of Delta Kappa Gamma, an international honorary society for women teachers. In addition, she was also a member Phi Delta Kappa.

Betty Pappas served as vice-president of the Mount View Cemetery Association since 1990. She also held membership in the Mental Health Association and other civic organizations. She was an active member of the St. Nicholas Greek Orthodox Church in Jamestown, as well as St. Stephen's Episcopal Church in Olean. She put a special passion and enthusiasm into whatever she believed in.

Miss Pappas was devoted to her friends and enjoyed a special and rare bond with her sister, Rose. In 2002, two years after her sister died, Betty established the Rose Pappas Foundation to assist people in need, particularly the elderly and the handicapped, through "acts of kindness."

The Foundation has provided assistance to a number of area groups, including the Mental Health Association; the Olean Food Pantry; the Hinsdale Food Pantry; the Portville Food Pantry; the Rehabilitation Center, now known as Intandem; and the Community Thanksgiving Dinner. In addition, many individuals have also been helped.

Although Miss Pappas had a most successful and rewarding career, her family and friends meant the world to her.

Betty Pappas enjoyed people and life. She had a knack for forming friendships and had a quick wit and sense of humor. She had a big heart and was always generous with her time and financial assistance.

She enjoyed her home and neighbors; reading; caring for her plants; and doing crossword puzzles. Most of all, she liked being with her many friends. Her quick smile brought happiness to every who knew her.

Betty's legacy will live on in the minds and hearts of everyone who knew her. She touched the lives of thousands of students, as well as people from all walks of life.

Miss Pappas is survived by special friends whom she considered family, John, Mary Ellen and Bradley Karuch; Betsy, Matt, Liam, Brendon and Kellen Donnelly; and Rhea and Paul Carls.

Miss Pappas was predeceased by her father, James, on Dec. 24, 1967; her mother, Mary, on Dec. 11, 1981; and her sister, Rose, on Nov. 22, 2000.

Private services will be held at this time. A public service will be held at a date and time to be announced. Burial will be at Mount View Cemetery, in Olean.

Arrangements are under the direction of Letro-McIntosh-Spink Funeral Home Inc., 646 E. State St., Olean.

Online condolences may be made at LetroMcIntoshSpinkFuneralHome.com.

Memorials may be made to The Rose Pappas Foundation, c/o the Cattaraugus Region Community Foundation, 120 N. Union St., Olean, NY 14760; the Betty Pappas Scholarship Fund for the Hinsdale Central School, c/o the Cattaraugus Region Community Foundation, 120 N. Union St., Olean, NY 14760; or to the St. Nicholas Greek Orthodox Church, PO Box 264, Jamestown, NY 14701.

Published in Olean Times Herald from Apr. 17 to Apr. 18, 2020.