Giles N Johnson 1840-1913
Company B, 154th Infantry Regiment
New York Volunteers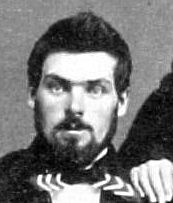 Giles N. Johnson enlisted on July 28, 1852 at Dayton, New York to serve three years. He mustered in with Comapny B, 154th Infantry Regiment, New York Volunteers as a sergeant on September 24, 1862. Sergeant Johnson was wounded in action on July 1, 1863 at Gettysburg, Pennsylvania, and was discharged for disability on June 10, 1864 at Washington, D.C.
Source: Annual Report of the Adjutant-General of the State of New York for the Year 1904, Brandow Printing Company, State Legislative Printers, Albany, New York, 1905, page 1159