Atlas
of
Cattaraugus
County
New York

From actual Surveys & Official Records
Compiled & Published
By
D.G. Beers & Co
95 Maiden Lane
New York
1869
| | | |
| --- | --- | --- |
| D.G. Beers | J.J. Goodhue | E.F. Sanford |
---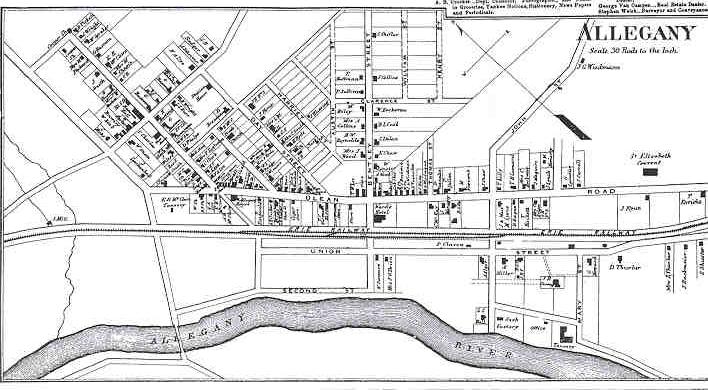 (Click here to Download a larger size image in ZIP format)

---
Allegany Business Directory
Hotels
D.W. Ward…Ward's Hotel, M.A. Ward Proprietor
John Miller…Proprietor Allegany House
Howard & Phelps…Dealers in Stationary, Dry Goods, Drugs, Medicines, Chemicals, Glass, Putty, Pains, Physicians' Prescriptions Carefully Compound
Wm. Spraker Jr & Co…Dealers in Groceries, Provisions and Crockery
L.L. Chorthell…Dealer in Saddles and Harness. Harness on Hand and Made To Order
A.H. Marsh & Co…General Dealers in Dry Goods, Groceries, Crockery, Hardware, Boots, Shoes, and Ready-make Clothing.
N.A. Dye…General Dealer in Groceries and Provisions
A.B. Crocker…Dept. Deollector. Photographer, also Dealer in Groceries, Yankee Notions, Stationery, New Papers and Periodicals
Manufacturers
A.Strong & Son…Manufacturers of and Dealers in Sole Leather
E.R. McClure…Tanner and Currier. Boot and Shoe Manufacturer
W.C. Bockoren….Blacksmith
T.C. Norwood…. "
John G. Weldman…Manufacturer of Wagons and Carriages.
Stephen Allen…Manufacturer of Sleighs and Carpenter
Preseck & Dombrowsky…Manufacturer of Wagons &c.
Warren Onon…Carpenter
Lumbermen
George Bascom…Lumberman
J.M. Park… "
G.C. Sheldon… "
Miscellaneous
C.C. Thompson…Ecleectic Physician and Botanic Drug Dealer
George Van Campen…Real Estate Dealer
Stephen Welch…Surveryor and Conveyancer
---
Limestone Business Directory
H. Renner… Proprietor of the Limestone Hotel
Parker & Bell, Dealers in Drygoods and Groceries
A.E. & G.W. Palmer, Manufacturers of Sole Leather.
---
Ashford Hollow Business Directory
Jacob Multer…Cabinet Maker and Justice of the Peace
J. D. Larabee… Dealer in General Merchandise, Groceries, Country Produce, Dyes, Medicines, &c.
W.J. Vanslyke….Cheese Manufacturer
C. W. Scott…Cheese Manufacturer
---
© 2002 by Richard Allen