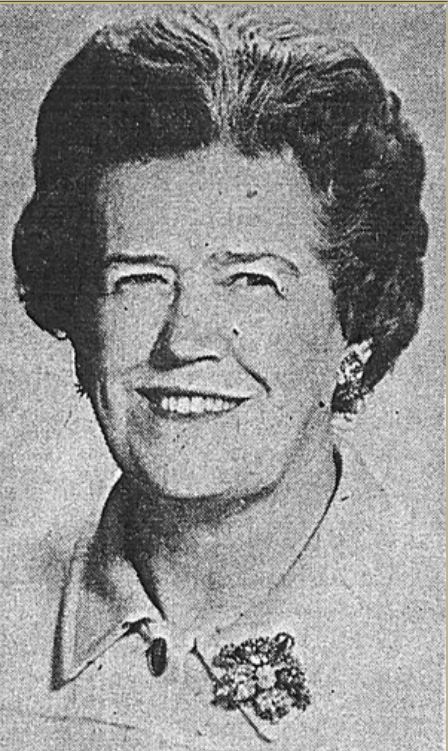 Obituary of Helen M. Hannigan
Helen M. Hannigan, formerly of W. Sullivan St. died Saturday (January 21, 2006) in The Pines of Olean where she had resided for the past 6 years.
Born December 17, 1915 in Olean, NY she was the daughter of George and Mary Shea Hannigan. She had just celebrated her 90th birthday. Miss Hannigan was a member of an Irish family who first settled in Olean in 1853. She was the fourth generation to be raised on the 123 acre farm in N. Olean until her father's accident forced the family to move to their Sullivan Street Home.
Miss Hannigan was a life long resident of Olean and graduated from Olean High School. She received a Bachelor of Arts Degree from St. Bonaventure College and a master's degree from New York State College for Teachers at Albany. In the ensuing years she continued her graduate studies at St. Bonaventure University where in 1974 she received an honorary degree, Doctor of Pedagogy. In 1970 she received the University's Annual Alumni Award in recognition of her outstanding contributions to the Alumni Association, including national chairperson of the Alumnae Fund. In 1963 a testimonial dinner was held for Miss Hannigan at the Castle Restaurant sponsored by the Olean Women's Democratic Committee. Two hundred and fifty guests from the Olean and St. Bonaventure University community toasted her accomplishments at this fete.
She is a retired Olean Junior High School English teacher, having taught for 38 years. During that time she helped develop curriculum, supervised student teachers, conducted the Buffalo Evening News spelling contest for over 20 years in Olean and served as chairperson of the Junior High School English program.
She was a member of and tireless fundraiser for St. Mary of the Angels Church and was a past Grand Regent for the Catholic Daughters of America. She volunteered for many community activities including fund drives for Archbishop Walsh High School and the former St. Francis Hospital. She was also a former member of the Olean Civil Service Commission and served on the Olean Board of Education.
Surviving are 2 sisters Betty Gasdick of Elmira and Ann Rhoads of Haddonfield, NJ. She will be sadly missed by her sister Ann's children: Mary Brady, Ellen Rhoads, Ann Koelling, James and John Rhoads and Patricia Hertig; her sister Betty's children: Mark Gasdick and Marcia Snyder; Her brother Bud's children: Lori Grigg, Lisa Balzer, Shellagh H. Coogan and Kelly Gottelli. Marcia, Mark, Mary and Ann lived with their Aunt Helen for some of their college years.
She was predeceased by 1 brother George "Bud" Hannigan and a nephew Michael Hannigan.
Friends will be received at the Casey, Halwig & Hartle Funeral Home 3128 W. State Rd. Olean on Friday from 4 to 7pm. Funeral services will be held Saturday (January 28, 2006) beginning with a prayer service at 9:30am in the funeral home followed by a Mass of Christian Burial at 10:00am in St. Mary of the Angels Church. Rev. Gregory Dobson, pastor, will be the celebrant. Burial will be in St. Bonaventure Cemetery.