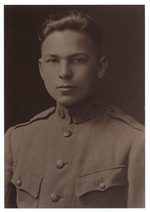 Frank Woodruff Buckles (born February 1, 1901) is, at age 110, the last known surviving American-born veteran of the First World War. He is a veteran WWI and a civilian POW WWII. He was born in Bethany, Missouri and at age 16, advanced his age to 21 and enlisted in April of 1917. He was an ambulance driver in England. After the Armistice he escorted POW's back to Germany. He was discharged a corporal in 1920. As a civilian, he was captured in the Philippines and spent three years in a Japanese prison camp. He was awarded the Legion d'honneur by then French president Jacques Chirac. His portrait is one of nine photos in a pentagon exibit of American doughboys. Eligible only for cremation at Arlington, Ross Perot intervened with the White House, and Buckles received special approval for underground burial at Arlington on March 19, 2008
Update: Feb 1, 2011
- America's last surviving World War I veteran is now 110. Frank Woodruff Buckles celebrated his birthday Tuesday with family and friends at his home in West Virginia. Buckles, who was born in Harrison County, Mo. He hopes to celebrate at least a few more. And he has one wish that he's waiting on Congress to grant: Buckles wants to see the dedication of a new World War I memorial in Washington, D.C.
In 2008 U.S. Rep. Shelley Moore Capito, R-W.Va., sponsored a bill to allow Buckles, upon his death, to lie in honor in the U.S. Capitol Rotunda. "Mr. Buckles represents the very best of this country — service, determination and patriotism. He has lived through some of the most historic events in American history, from the Great Depression to two world wars to the invention of the Internet," Capito said in a statement
David DeJonge, a Michigan filmmaker, is producing a documentary on Buckles' life titled "Pershing's Last Patriot: The Story of Frank Woodruff Buckles, America's Last Veteran of World War I." It will be narrated by actor Richard Thomas.
Update: Feb 28, 2011
- Frank Buckles passed away Sunday, Feb 27, 2011 at the age of 110. Buckles is survived by his daughter, Susannah Buckles Flanagan. With his death, only two of the 65 million people mobilized during the Great War are known to be alive, The Washington Post reports: an Australian man, 109, and a British woman, 110.