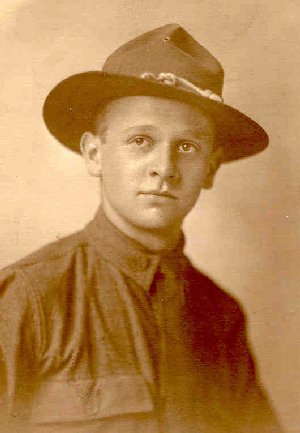 Over the years I had asked my Father many times about his time in the war and what it was like, but he never talked it, saying "you don't want to know" or "I don't want to talk about it." He never did talk much about it....except with his "buddies" who were there with him. Long after he passed on, I found his diary. Oh how I wish I had found it when he was alive, but that wasn't to be. As I read through it, I came across names that I had heard as a child when he would reminisce with his buddies.
In talking with others who had fathers, uncles or relatives in the war, I find a common thread. Those who made it through the war, were reluctant to talk about it with anyone other than those that had been there with them.
For that reason, I decided to create this site, so those of you who have connections to someone who was in Company I, 108th Infantry, 27th NY Division, might find a name, a place, or an incident that will shed some light on the life and times of your ancestor.
The diary is transcribed verbatim. I have found many errors in the spelling of names and places. Those that I know, have been corrected, but there are surely many more. Though the diary, you will find some names have links to photos or other information about individuals. Usually these links will be only on the first occurance of the name. There are also other links to other photos of interest. - Dick Allen